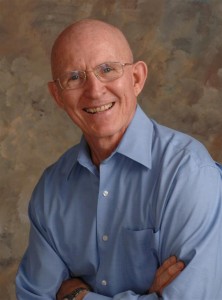 Dr. Harold J. Sala, well known speaker, author and Bible teacher, has served as founder and President of Guidelines International, Inc., since 1963. He is the featured speaker on the daily "Guidelines-A Five Minute Commentary on Living" which is broadcast on over 1000 radio stations around the world and translated in over 15 languages.
Author of over 40 books published in various languages and hundreds of publications, Harold is also a popular guest lecturer and teacher at universities such as Donetsk Christian University in Ukraine , national and international conferences, seminars, and churches. His television program "Guidelines for Living" is still seen weekdays in Asia on satellite and GMA-7 in Manila , Philippines .
Dr. Sala earned his Ph.D. from Bob Jones University . His further graduate studies have been at the University of Southern California, California Baptist Seminary, Fuller Theological Seminary and the Conservative Baptist Seminary in Denver , Colorado . Residing in Mission Viejo , California , Harold and his wife, Darlene, have three adult children and eight well-loved grandchildren.
Dr. Sala's latest commentaries
October 23, 2014
But when the fullness of the time had come, God sent forth His Son, born of a woman, born under the law, to redeem those who were under the law, that we might receive the adoption as sons.  Galatians 4:4-5 Through the strange quirk of circumstances an acquaintance, a man well into his 80s discovered that his mother was really his aunt, and vice versa. He had been adopted as an infant and never told. In his case, it hadn't mattered, but that's not true everywhere.  In many cultures when a couple has too many children or can't afford to

Read more…