By Darlene Sala
Richard Robinson's heart ached for the young children who lived in the slum areas around the Sister Freda Medical Centre in Kitale, Kenya. Day-after-day
these pre-school kids were left at home to care for their even younger brothers and sisters while their parents went into town to look for work or food.
They were lucky if they ate one meal a day.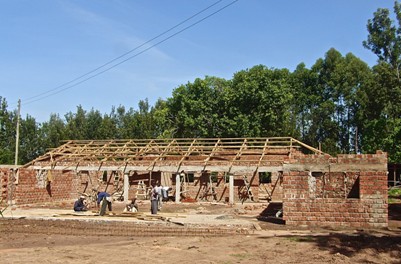 Richard set up a feeding program and pre-school in the only building available at the Centre—a wooden structure with dirt floors. He also hired several
teachers to care for the children.
More than one hundred children now attend the school. Some walk from as far as two miles away so that they can receive a simple mid-morning breakfast,
rudimentary education, and then an early afternoon meal before they walk back to their homes. As funds are available, the kids are sent home with small
packages of beans and rice on Friday afternoons so that they will have something to eat on the weekends.
Richard's dream was to have a functional building where he could better meet the needs of these young kids. He shared that dream with Dr. Alan Riley, who
had come to visit the Centre. Dr. Alan's heart was touched as well—so much so that he took on the job of raising funds for the project to build a facility
where the kids can meet for school and meals. In March 2013, just months after Richard went home to be with the Lord, the kindergarten was started.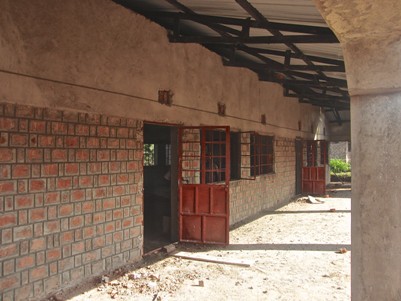 Presently, Dr. Alan is doing all he can to finish the school. To honor his dear friend, the building will be known as the Richard Robinson Child Care
Centre.
If you would like to help build this much-needed facility, you can send your gift to Guidelines, noting that you wish the money to go toward the Children's
Centre. The funds will be forwarded in their entirety to the project.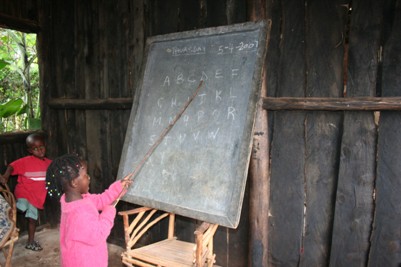 ---
Comments (9)
---