Meeting Needs in the Philippines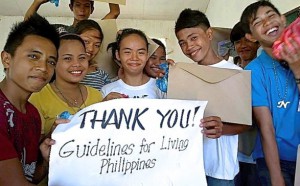 Guidelines has been able to raise over $11,000 for Philippine relief in the wake of super-typhoon Haiyan (called Yolanda in the Philippines). Food, water, medical care and messages of encouragement and faith have been provided yet the NEED CONTINUES to be urgent for the estimated 10 million homeless.  We are working with trusted local ministries such as Far East Broadcasting Company, Operation Blessing Foundation Philippines (the humanitarian arm of CBN-Asia) and local churches such as Christ's Commission Fellowship and Christ Jesus our Life to identify the best opportunities to provide practical help.
Guidelines has established a Philippines Emergency Relief Fund to help bring supplies to the devastated and heartbroken.  You can read more about it and give here. Please continue to pray for the people of the Philippines.
"For I was hungry and you gave me food, I was thirsty and you gave me drink, I was a stranger and you welcomed me."  Matthew 25:35
Our Mission
people who need the Lord
them biblical principles to live out the life of Christ
needy lives to reflect faith at work
Most Recent Commentaries
March 7, 2014
March 7 UN INCONVENIENTE MENOR A MINOR INCONVENIENCE Y como si fuera poco, cada día pesa sobre mí la preocupación por todas las iglesias. ¿Cuando alguien se siente débil, no comparto yo su debilidad? ¿Y cuando a alguien se le hace tropezar, no ardo yo de indignación. 2 Corintios 11: 28¬-29 Es fascinante conocer a personas que han experimentando grandes tragedias, como sobrevivir un accidente de aviación, o recuperarse de una enfermedad grave, o ser rescatado de un accidente dentro de una mina. Ellos parecen que no se molestan con lo que a la mayoría de la gente les

Read more…
March 7, 2014
She did what she could. She poured perfume on my body beforehand to prepare for my burial. Mark 14:8 There is a mindset today which paralyzes our good intentions and causes our heads to turn from that which is unpleasant and causes us discomfort. It's the mentality that the needs of the world are so great, and your personal ability to make a difference is so tiny and inconsequential, that what you can do to change anything just doesn't count. So the end result is that we do nothing. "Nothing" doesn't change the darkness or make even the slightest difference

Read more…
March 6, 2014
The King will reply, "I tell you the truth, whatever you did for one of the least of these brothers of mine, you did for me." Matthew 25:40 When you help people without any thought of what you get out of it, you are investing in heaven's bank–"laying up treasure in heaven" is the way Paul put it. One of the reasons we invest so little in the currency of heaven is that heaven is out of sight. We want dividends now, not later. Neither do we make a connection in our thinking between investing in the lives of people

Read more…
March 6, 2014
March 6 ENAMORÁNDOSE DOS VECES FALLING IN LOVE TWICE Maridos, amad a vuestras mujeres, así como Cristo amó a la iglesia,y se entregó a sí mismo por ella. Efesios 5:25 Podría usted enamorarse dos veces de la misma persona? Kim y Krickitt Carpenter responden, "definitivamente que sí!" Fue una experiencia que Krickitt la vivió de primera mano. Kim y Krickitt tenían apenas dos meses de matrimonio cuando sus mundos se desmoronaron. En un libro recientemente publicado con el nombre de El Voto, ellos cuentan su historia. En la noche del 24 de noviembre de 1993, Kim y Krickitt se

Read more…
March 5, 2014
March 5 APRENDIENDO A CONFIAR EN DIOS LEARNING TO TRUST GOD Así que, todas las cosas que queráis que los hombres hagan con vosotros, así también haced vosotros con ellos; porque esto es la ley y los profetas. Mateo 7:12 La escena es real: Una pequeña niña parada en el filo de una ventana en el segundo piso de un edificio que ardía en llamas. Con los brazos extendidos un bombero le gritaba a la niña," Salta, no tengas miedo, yo te agarraré!. El corazón de la pequeña está invadido por el pánico. Ella no conocía al bombero. Mas

Read more…
March 5, 2014
Since, then, you have been raised with Christ, set your hearts on things above, where Christ is, seated at the right hand of God. Colossians 3:1 Jesus illustrated great truths with human interest stories. One of them involved a wealthy man who turned over his estate to three men, entrusting each with a certain amount of wealth. Today we use dollars, yen, pesos or euros (depending on who has issued the currency) to measure wealth, but in Jesus' day the unit of measurement was a talent. Our English word for talent is a transliteration of the Greek word, the one

Read more…
March 4, 2014
So we fix our eyes not on what is seen, but on what is unseen. For what is seen is temporary, but what is unseen is eternal. 2 Corinthians 4:18 "Do you have investments?" a businessman asked me, "and what do you invest in?" I explained that I had some rather large investments, but they were not subject to the whims of markets and a capricious economy. I told him that I had invested my life in the kingdom of God–in people around the world, which included my children and family. From the look that I got as I explained

Read more…
March 4, 2014
March 4 DEJANDO EL MIEDO HACIA DIOS OVERCOMING YOUR FEAR OF GOD No temas Abraham; yo soy tu escudo, y tu galardón será sobremanera grande. Génesis 15:1 Una amiga mía, con verdadera ansias de conocer a Dios, siente temor de que su búsqueda del Todopoderoso termine en un desencanto. Mantiene usted una lucha espiritual como la de mi amiga que mencioné? Si es así, puedo ver que su interés por conocer a Dios es genuino, pero aquí está el dilema–sus deseos se ven frenados por temores y se pregunta si al final de la búsqueda encontrará decepción, rechazo y

Read more…
March 3, 2014
Do not store up for yourselves treasures on earth, where moth and rust destroy, and where thieves break in and steal. Matthew 6:19 If you were asked, "What do you invest in?" I suspect that you would mention stocks, bonds, real estate, or perhaps precious metals. Or you might say, "You've got to be kidding. We're fortunate to have enough to buy rice and fish for dinner tonight!" In answering that question about what you invest in, almost always the focus is on tangibles–money. And I freely acknowledge that in a time of economic flux, knowing where to put your

Read more…
March 3, 2014
March 3 CONOCIENDO A JESÚS GETTING TO KNOW HIM Jesús le dijo: Tanto tiempo hace que estoy con vosotros, y no me has conocido, Felipe? El que me ha visto a mí, ha visto al Padre; cómo, pues, dices tú: Muéstranos el Padre? Juan 14:9 Un amigo escribe: Mi hambre por Dios ha sido constante, pero he tenido temor de buscarlo de corazón, porque creo que esto representa demasiado trabajo. Mucha gente se encuentra en esta situación, atrapada entre sus temores de acercarse demasiado a Dios o de estar muy lejos de Él. Hay cuatro pasos que le ayudarán

Read more…