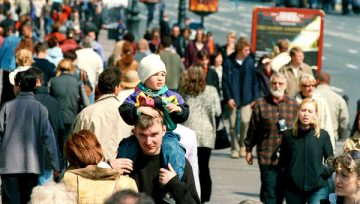 What we're hearing from Russia these days:

"I'm 40.  More and more I'm thinking about life.  My spiritual life is not in good condition.  I decided to learn more about Christianity and through your broadcasts I discovered many things that I never knew.  Thank you very much, friends, for helping to change my life.  Your Guidelines sermons are amazing!"  Denis from Moscow
"Dear friends, thank you very much for your programs!  Be cause of your broadcasts I am a new Christian now!  I began reading the New Testament and I'm glad I'm doing it as I listen to your programs that I love.  I also believe in your prayers.  Please pray for my sister who recently tried committing suicide.  I want my sister to start to listen to Guidelines sermons and be saved."  Larissa from St. Petersburg
"I like to listen to your broadcasts.  You teach us to be good and do the right things.  And we believe you.  Because of the war in Eastern Ukraine, I let a refugee family live in my apartment.  Several months passed by, but they are still here.  Now I am worried about how I will sell my apartment; I don't want to turn them out.  I just can't do this.  Please pray for us."  Irina from Rostov, Russia
"My brother wa a drug addict and died in his sleep.  Where is he now?  Is he in hell?  He didn't repent of his sins.  Recently I began to listen to FEBC broadcasts and discovered that there is life after death.  Listening to Guidelines programs, I understood that I need to repent of my sins and accept Jesus as my Savior.  Help me Lord!"  Vasily from Russia
The Guidelines commentaries are broadcast in Russian by our partner, Far East Broadcasting Company (FEBC) in St. Petersburg, Moscow, Norilsk, Kayerkan, Russia and Slavyansk/Kramatorsk, Ukraine and Bishkek, Kyrgyzstan.
To support Guidelines Russian Radio Broadcasts click here.