Fire Destroys Guidelines Ministry Center in Barangay Valencia, Philippines
The Guidelines Ministry Center in Barangay Valencia, Metro Manila, Philippines was gutted by fire April 4, 2014. Thankfully, no lives were lost. This is the second time Guidelines staff members, the Manalo Family, have lost their home and belongings to fire in this barrio, yet they choose to remain there to minister. This center, although tiny, is the site of numerous Bible Studies, childrens' and youth events as well as medical clinics.
To donate for rebuilding, click here.
If you live in the Philippines, please consider donating by emailing box4000@guidelines.org for information.
Meeting Needs in the Philippines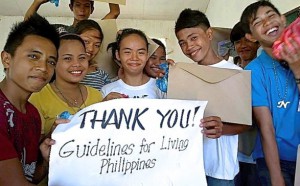 Guidelines has been able to raise over $11,000 for Philippine relief in the wake of super-typhoon Haiyan (called Yolanda in the Philippines). Food, water, medical care and messages of encouragement and faith have been provided yet the NEED CONTINUES to be urgent for the estimated 10 million homeless.  We are working with trusted local ministries such as Far East Broadcasting Company, Operation Blessing Foundation Philippines (the humanitarian arm of CBN-Asia) and local churches such as Christ's Commission Fellowship and Christ Jesus our Life to identify the best opportunities to provide practical help.
Guidelines has established a Philippines Emergency Relief Fund to help bring supplies to the devastated and heartbroken.  You can read more about it and give here. Please continue to pray for the people of the Philippines.
"For I was hungry and you gave me food, I was thirsty and you gave me drink, I was a stranger and you welcomed me."  Matthew 25:35
Our Mission
people who need the Lord
them biblical principles to live out the life of Christ
needy lives to reflect faith at work
Most Recent Commentaries
April 24, 2014
For God so loved the world that he gave his one and only Son, that whoever believes in him shall not perish but have eternal life.  John 3:16 Recent revelations by astronomers who have analyzed some of the dark matter in space indicate that the actual number of galaxies in the universe may be as great as 50 billion—five times what scientists had thought.  Though it is impossible for finite man to grasp the immensity of the universe, here's an illustration which makes it a bit more concrete. If you viewed a single galaxy for only one second, which is

Read more…
April 24, 2014
April 24 PERMITIENDO QUE LA IMAGEN DE DIOS BRILLE LETTING THE IMAGE OF GOD SHINE THROUGH Así también vosotros consideraos muertos al pecado, pero vivos para Dios en Cristo Jesús, Señor nuestro. Romanos 6:11 Resulta comprometedor pensar que el mundo juzga a Dios por lo que ven de El en las vidas de sus hijos. Sabemos que el mundo no debe juzgar a Dios por lo que ven en nuestras imperfectas vidas. Nos gustaría decirles en voz alta: "No me miren! Soy humano, imperfecto! Miren más allá de mis imperfecciones, miren al Dios viviente que levantó a su Hijo

Read more…
April 23, 2014
April 23 EL DIOS QUE CONTESTA ENVIANDO FUEGO THE GOD WHO ANSWERS BY FIRE O ignoráis que vuestro cuerpo es templo de Espíritu Santo, el cual está en vosotros, el cual tenéis de Dios, y que nos sois vuestros? 1Corintios 6:19 El entendimiento que el mundo tiene de Dios está basado simplemente en la observancia de las vidas de los llamados hijos de Dios. Lamentablemente, en muchas ocasiones lo que ven en sus hijos, es una mínima evidencia de la presencia de Su padre. El resultado: La percepción de un Dios muy débil, frecuentemente desinteresado en los demás, demasiado

Read more…
April 23, 2014
Lift up your eyes on high, and behold who hath created these things, that bringeth out their host by number: he calleth them all by names by the greatness of his might, for that he is strong in power; not one faileth.  Isaiah 40:26, KJV Would it be fair to say that the true measure of a person is his or her accomplishment?  At least in a broad sort of way?  For example, James Michener is considered a great author because of the level of great literature that came from his typewriter.   The architecture of St. Paul's Cathedral, along with

Read more…
April 22, 2014
April 22 UNA COSA AUN TE FALTA ONE THING YOU YET LACK Jesús, oyendo esto, le dijo: Aún te falta una cosa: vende todo lo que tienes, y dalo a los pobres, y tendrás tesoro en el cielo; y ven, sígueme. Lucas 18:22 Cualquier persona que haya visitado el antiguo Jericó puede atestiguar que el verano puede ser extremadamente caliente. Razón por la que es tan notable un drama que tomó lugar cuando Jesús se acercaba a la ciudad. Este suceso fue tan vívido para el Señor que tres biógrafos de Jesús lo narran, Mateo, Marcos y Lucas. La

Read more…
April 22, 2014
When I consider your heavens, the work of your fingers, the moon and the stars, which you have set in place, what is man that you are mindful of him, the son of man that you care for him?  Psalm 8:3 Hold everything!  According to astronomers, infinity has recently multiplied!  Well, if you can believe that, it's what scientists are now telling us.  Recently, astronomers have analyzed portions of our sky; based on their calculations, they have upped the number of galaxies from 10 to 50 billion.  This news is so stunning and so great that it absolutely defies human

Read more…
April 21, 2014
April 21 CONOCIENDO QUIEN ERES KNOWING WHO YOU ARE Estas cosas os he escrito a vosotros que creéis en el nombre del Hijo de Dios, para que sepáis que tenéis vida eterna, y para que creáis en el nombre del Hijo de Dios. 1Juan 5:13 Entre los temas de las innumerables cartas que llegan a Pautas para Vivir hemos percibido un sentido de incertidumbre- la gente no está segura de su relación con Dios. Existen dos pasajes en el Nuevo Testamento que hablan de este tema. Los encontrará en Gálatas 4 y Romanos 8. Ambos confirman que si usted

Read more…
April 21, 2014
Is not God in the heights of heaven? And see how lofty are the highest stars!  Job 22:12 He died on January 1 in the year 379. His name: Basil; and he lived in Caesarea of Cappadocia, known as central Turkey today. Originally, he studied to be a lawyer and orator; but ultimately, he became a Bishop in the Church–a down-to-earth sort of fellow who sold his family's large estate to feed the poor, working in the soup kitchen himself. He served everyone in need saying that the digestive systems of Jews and Christians are indistinguishable. His writings are still

Read more…
by Darlene Sala
April 21, 2014
Job tells us that "It is the spirit in a man, the breath of the Almighty that gives him understanding" (Job 32:8). Because God breathed into Adam the breath of life—His very own breath–and we're related to Adam, we have a measure of God's insight. For instance, you don't have to ask God whether or not to brush your teeth or take a shower. Yet, having the "breath of the Almighty" in us, we sometimes think we know enough to make all our own decisions. And that's where we get into trouble. God promises to give us guidance.  He says,

Read more…
April 18, 2014
April 18 GOZO Y CONTENTAMIENTO EN UN MUNDO DE SOLTEROS JOY AND CONTENTMENT IN A SINGLE'S WORLD Todo tiene su tiempo, y todo lo que se quiere debajo del cielo tiene su hora. Eclesiastés 3:1 El ejército de solteros es marcadamente diversa debido a que tres grupos distintos conforman este segmento de la sociedad, los que nunca se han casado, los que una vez estuvieron casados (divorciados, o abandonados) y aquellos que han perdido a su pareja por muerte y no se han vuelto a casar. El panorama del matrimonio ha cambiado. Ya no se relaciona el ser soltero

Read more…